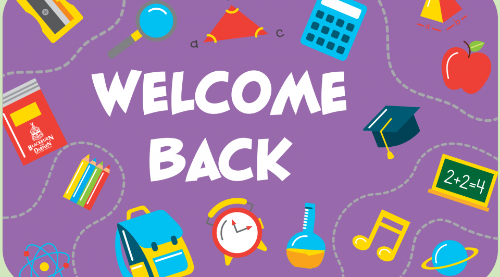 Welcome back.
It has been a wonderful return to school this week. I have thoroughly enjoyed hearing the children and seeing how happy they are to be back. The school environment feels so lovely, the children are excited and ready to learn. I have enjoyed hearing about their holidays and have noticed just how much some have them have grown!
We have welcomed our new reception children and they have had an exciting first few days getting to know their new teachers and friends. I am so proud of how they have settled. Thank you to our new parents too, it has been lovely welcoming you to our school too.
As the term progresses I am so hopeful that some of our normality will resume. We have plans for showing and sharing learning with you and we are looking forward to being able to invite you into school to do this.
Class blogs.
The class blogs will continue to be our way of sharing with you. So please remember to check in on them each week. They are our opportunity to share with you what the children are learning and they also keep you up to date about all the things that your child might need in readiness for the following week. Click the menu tab, find classes and select your child's class.
Remember if you have any questions about school, you can speak to/email your class teacher or Mrs Trevaskis (our school secretary). secretary@pelyntprimary.co.uk
Learning Outdoors.
Outdoor learning and forest school activities take place every week and we endeavour to be outdoors whatever the weather. I feel very passionately about our children learning about and learning in the outdoor environment. The forest school area provides them with so many opportunities to explore and to build skills in resilience, problem solving and social interaction. It's so popular with the children and supports the importance of play. I am really looking forward to spending time outdoors with them. Each class has a designated day where the children can come into school wearing their outdoor learning clothing. Please can they also make sure they have suitable footwear too.
Drop off and collection.
The drop off and collection have run fairly smoothly this week. I am hopeful that we will gradually speed up over time. We have adapted things in school to try to make sure we get the children into position ready to come home in time. The children are adapting back into life in school and we are getting quicker at some of the logistical elements
Thank you for supporting us.